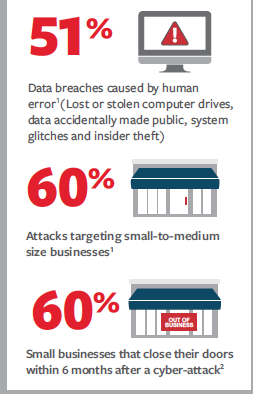 As cyber-attacks continue to escalate in frequency and severity, you can't afford NOT to protect your business from data breach. Criminals are constantly working on new ways to hack into your computer systems, steal data and create chaos.
Is any organization safe from a cyber attack? The simple answer is no. But a well developed risk management program, including cyber insurance can help minimize the financial aftermath.
Ransomware is currently one of the most common types of attack. This is when an encrypted virus is introduced to you system via a link or email and "takes over" your system. Generally there are demands that you "pay up" to have your system released from the hackers grip. The difficulty in stopping this type of attack is that human error often is involved with introducing the ransomware to your organizations systems.
Think it won't happen to you? Some recent statistics show a different story….
33% of Fortune 500 corporate executives fall for phishing attacks.*
70% of cyber attacks target small businesses.*
60% of hacked small and medium sized businesses fail within the six months following a breach.*
Businesses should anticipate the real possibility of cyber extortion and take these preventive measures now so they don't fall victim later:
Back up sensitive business files regularly and maintain

copies of your main network. Backed up files can be

quickly restored, averting the effects of an attack.

Plan your business response. Establish safeguards,

including multifactor authentication to protect sensitive

data from unauthorized access and use.

Educate employees on ransomware and how it works.

Conduct training sessions on detecting suspicious

emails and attachments, and set up a protocol for

reporting them to a designated manager.

Install updates to your company software as soon as

they're released. They often contain patches that address

security vulnerabilities that help keep your business

protected against online threats.

Purchase cyber liability insurance with the option to

include coverage for cyber extortion loss, which entitles

you to assistance in responding to a threat and also

reimburses the ransom amount if payment is made.
This is the new reality for businesses today. In addition to reeking havoc on your day to day operation, the fallout reaches much further. Company officers and board members can be held accountable. A risk management program that includes cyber insurance is a way of creating a program that can help protect not only your business, but your officers and board members as well.
The proper cyber policy covers defense costs and settlements if a customer sues for alleged failure to prevent unauthorized access to, or use of, personal information OR if you fail to notify customers, as required by law, that their personal data was compromised.
It can assist with the financial fallout including:
Forensic investigation
Business interruption
Reputation harm
Public relations / Crisis management
Legal advice
Customer notification
Credit monitoring services
Penalties and chargebacks imposed by credit card companies
No company can completely remove the risk from existing vulnerabilities. They can, however, work with their Insurance Agent to ensure the biggest risks are being addressed and business losses from potential attacks are reduced. Surprisingly, 50 percent of U.S. firms do not have cyber risk insurance. A report published by Deloitte consultants suggested buyers often don't understand cyber risks or their insurance options. Haylor, Freyer & Coon, Inc. can provide the clarity and simplified advice for this type of coverage. For more information, please contact a Risk Management Advisor
{{cta('422acfb4-0a08-4198-89e9-5947ca33df2c')}}
*According to research by PivotPoint Security, Inc. and 5000/Symantec